In order to meet the needs of overseas users for emergency data and better serve the emergency work of the 7.8-magnitude earthquake (20230206) in Turkey, the National Cryosphere Desert Data Center officially launched English version of emergency response service.
  In terms of content and functions, the English version retains all module functions of the Chinese version, providing visual display, interoperation and data download functions. It can be used by relevant emergency, rescue and research departments.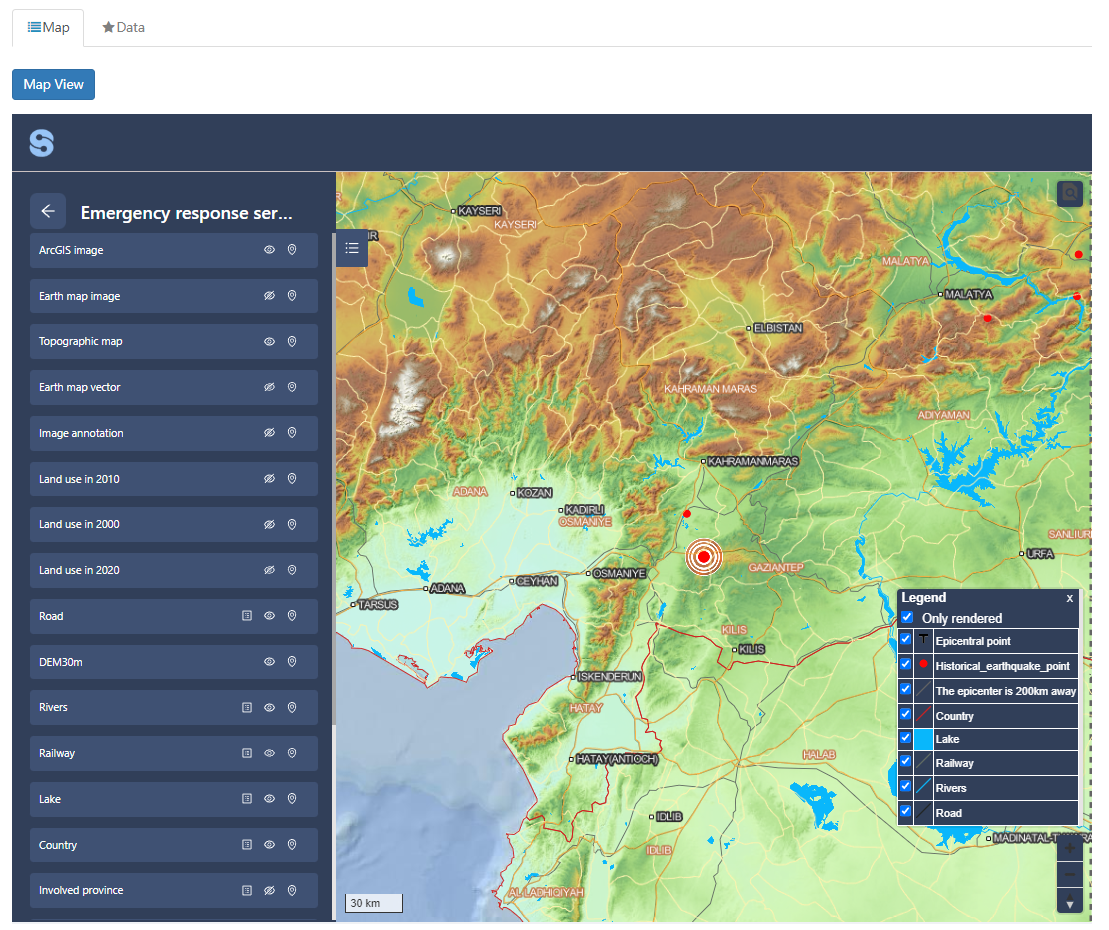 According to China Earthquake Networks: A powerful 7.8 magnitude earthquake occurred in Turkey at 4:17 local time on February 6, 2023. The epicenter was located at 37.15 degrees north latitude and 36.95 degrees east longitude, with a focal depth of 20 kilometers. The average altitude is about 1,001 meters within 5 kilometers of the epicenter, The population density is not low near the epicentre, with 33 large and medium-sized cities within 300km, most recently Gaziantep, Turkey's sixth-largest city, about 40km from the epicentre. The 7.8 magnitude quake was the largest in 10 years within 200 kilometers of the epicenter, and it was 659 kilometers from the 6.1 magnitude quake on Nov. 23, 2022.
  The earthquake has affected Syria, Iraq, Israel, Palestine and other neighboring countries to varying degrees. At least 18 aftershocks with magnitudes greater than 4 have been recorded following the powerful Turkey-Syria earthquake, including seven with magnitudes greater than 5, the US Geological Survey (USGS) said. The strongest aftershock so far was recorded 11 minutes after the initial quake, with a magnitude of 6.7.
  According to the latest news of China Earthquake Networks, February 06 13:24 local time (Beijing time 18:24) in Turkey (38.00 degrees north latitude, 37.15 degrees east longitude) 7.8 magnitude earthquake, the focal depth of 20 kilometers.
  Service Website:http://www.ncdc.ac.cn/portal/emergency_en/turkey_earthquake_20230206